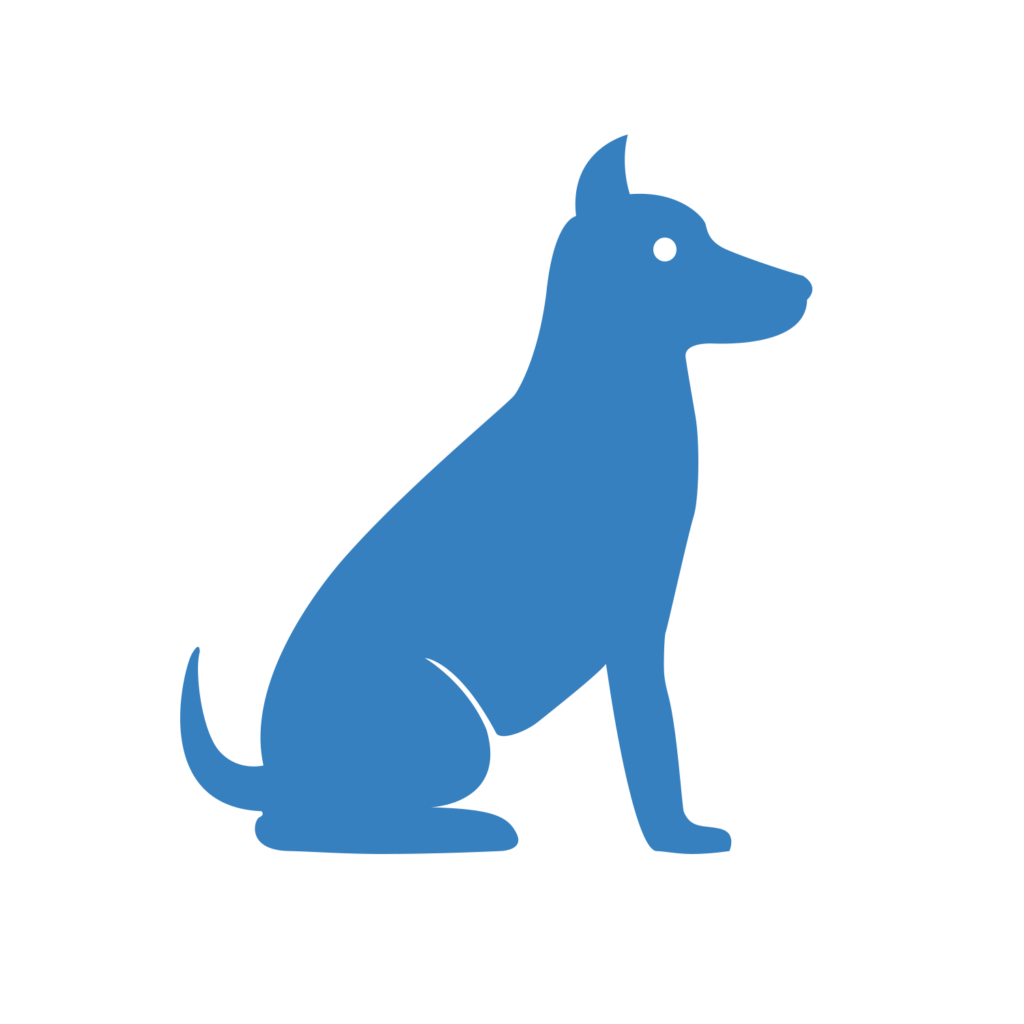 Blue, Champagne, Lilac, Diluted Coat Color
Turnaround: 3-5 days
US: $40.00 | UK: £27.00
Breeds: All
Description
The MLPH gene codes for a protein called melanophilin, which is responsible for transporting and fixing melanin-containing cells. A mutation in this gene leads to improper distribution of these cells, causing a diluted coat color. This mutation is recessive, so two copies of the mutated gene (AKA the D allele or the D-Locus) are needed to produce the dilute coat color.
This mutation affects both eumelanin and phaeomelanin pigments. These pigments control the color of the dog. Black, brown, and yellow dogs are all affected by the D-Locus. However, the effects of the dilution are more pronounced in black dogs. A diluted black dog becomes known as a blue dog. Names for this color trait vary across the different breeds, with charcoal, slate, or grey being common names. A diluted chocolate dog is often referred to as having a lilac coloration and a diluted yellow dog is known as having a champagne color. All the dogs that express the diluted colorations have a d/d genotype. They are also coded as B/B or B/b, b/b, and e/e respectively, with regards to the E and B loci which determine coat color.
Because the mutation responsible for the dilution phenotype is recessive, a dog can be a carrier of the dilution gene and still appear to have a normal coat color. These dogs can pass on either the full-colored genes or the diluted alleles to any offspring. This means that two dogs that appear full-colored can have a dilute puppy. This makes DNA testing for the D-Locus an important breeding tool, whether breeding for a dilute coat, or to avoid it.
Animal Genetics now offers a test for a second recessive mutation affecting dilution of coat color known as d2. This mutation was identified in a number of dog breeds where individual dogs had a diluted coat color, yet tested non-dilute. The additional variant works with the MLPH variant to dilute hair and skin in the same way. A diluted dog can be d/d, d/d2, or d2/d2. When a dilute test is requested, Animal Genetics tests for both d and d2 alleles.
Reference
Philipp U, Hamann H, Mecklenburg L, Nishino S, Mignot E, Günzel-Apel AR, Schmutz SM, Leeb T. Polymorphisms within the canine MLPH gene are associated with dilute coat color in dogs. BMC Genet. 2005 Jun 16; 6:34. [PubMed: 15960853]
Drögemüller C, Philipp U, Haase B, Günzel-Apel AR, Leeb T. A noncoding melanophilin gene (MLPH) SNP at the splice donor of exon 1 represents a candidate causal mutation for coat color dilution in dogs. J Hered. 2007; 98(5):468-73. [PubMed: 17519392]
| Genotype | Description |
| --- | --- |
| D/D | Negative: Dog is negative for the mutation associated with a diluted coat color. |
| D/d | Heterozygous: Dog carries one copy of the d1 mutation associated with a diluted coat color and may pass the mutation to offspring. |
| D/d2 | Heterozygous: Dog carries one copy of the d2 mutation associated with a diluted coat color and may pass the mutation to offspring. |
| D/d3 | Heterozygous: Dog carries one copy of the d3 mutation associated with a diluted coat color and may pass the mutation to offspring. |
| d/d | Homozygous: Dog has two copies of the d1 mutation associated with a diluted coat color. The dog's base coat will be diluted. |
| d/d2 | Homozygous: Dog carries one copy of each of the mutations associated with dilute coat color. The dog's base coat will be diluted. |
| d/d3 | Homozygous: Dog carries one copy of each of the mutations associated with dilute coat color. The dog's base coat will be diluted. |
| d2/d2 | Homozygous: Dog has two copies of the d2 mutation associated with a diluted coat color. The dog's base coat will be diluted. |